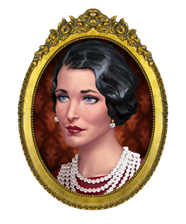 Biography
Pearl's Aunt Agnes is the epitome of high society refinement with her lithe figure and aloof demeanor. When Pearl was sent away to boarding school in New York City, a decision Agnes felt was cold of her brother Samuel, she was a doting aunt to Pearl.
Agnes has excellent taste in clothes and jewelry.
Profile
Age
46
Nationality
American
Personality

Elegant 

Refined

Aloof

Profession
Unknown
Romantic envolvements
Thomas Stone
Story role
Pearl's aunt
Chapters appearances
Ad blocker interference detected!
Wikia is a free-to-use site that makes money from advertising. We have a modified experience for viewers using ad blockers

Wikia is not accessible if you've made further modifications. Remove the custom ad blocker rule(s) and the page will load as expected.