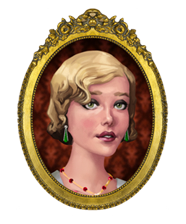 Biography
At a glance, Pearl's mother Dorothy could seem like a typical high-society wife, shielded by privilege. Yet she always had a quiet confidence that indicated an inner strength. Although she never knew the details of her husband's more nefarious activities while she was alive, she was aware something was going on and did her best to protect Pearl from whatever that was. Dorothy died when Pearl was only 10 years old.
Profile
Age
Deceased
Nationality
American
Personality

Fragile

Ethereal

Doomed

Profession
Housewife
Romantic envolvements
Story role
Pearl's mother
Chapters appearances
Ad blocker interference detected!
Wikia is a free-to-use site that makes money from advertising. We have a modified experience for viewers using ad blockers

Wikia is not accessible if you've made further modifications. Remove the custom ad blocker rule(s) and the page will load as expected.