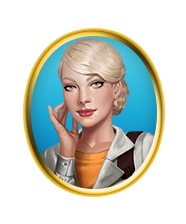 Blond, beautiful and smart. All you need to be a good agent.
Biography
Edit
Fearless, flirtatious, reckless. Elizabeth, also known as "Lizzie", is a British beauty with a nose for trouble and eyes for Klaus. She is appointed as Klaus' partner at INTERPOL after Luc's departure, much to Pearl's dismay. Her father, Charles Gordon, has a high powered role in the organization, and she seems to know no bounds. 
Age
22
Nationality
British
Personality

Outgoing

Headstrong

Antagonistic

Profession
INTERPOL AGENT
Romantic envolvements

Unknown

Story role
Klaus' Partner
Chapters appearances
Edit
Ad blocker interference detected!
Wikia is a free-to-use site that makes money from advertising. We have a modified experience for viewers using ad blockers

Wikia is not accessible if you've made further modifications. Remove the custom ad blocker rule(s) and the page will load as expected.