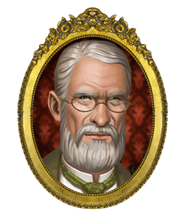 Biography
Edit
Ignatius is Edwin Wallace's best friend and a long-standing member of the Golden Mean. He joined the Chaos Veil for a short time after suffering a personal tragedy, but returns to help Pearl and Edwin defeat the Green Dragons.
Age
70
Nationality
Multiple
Personality

Wise

Sensitive

Profession
Member of the Golden Mean
Romantic envolvements

Pearl's grandmother

Story role
Ally & Friend
Chapters appearances
Edit
Ad blocker interference detected!
Wikia is a free-to-use site that makes money from advertising. We have a modified experience for viewers using ad blockers

Wikia is not accessible if you've made further modifications. Remove the custom ad blocker rule(s) and the page will load as expected.