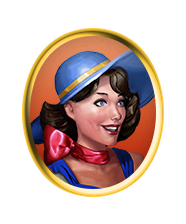 Biography
Iris, Pearl's best friend, works for a big New York newspaper. As a female journalist in the 1930s, she's a real trailblazer always on the lookout for a good story. When she hears of Pearl's dilemma, she decides to accompany her to Artemis Island and help her with the investigation. Iris uses sarcasm and humor to hide her fear and vulnerability and can be a real tough cookie. She thinks the world of Pearl, and is her fiercest supporter and friend.
Profile
Age
24
Nationality
American
Personality

Charming

Sophisticated

Cynical

Profession
Journalist
Romantic envolvements

Akira

Story role
Pearl's best friend
Chapters appearances
Ad blocker interference detected!
Wikia is a free-to-use site that makes money from advertising. We have a modified experience for viewers using ad blockers

Wikia is not accessible if you've made further modifications. Remove the custom ad blocker rule(s) and the page will load as expected.