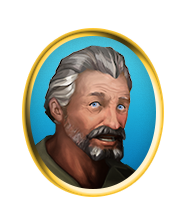 Biography
The gruff, hardened, and deceptive groundskeeper of Artemis Island is an experienced outdoorsman and has been a subordinate to Edwin's family for many years. Although he turns out to serve the opposing forces of the Chaos Veil, he has his own agenda, above and beyond the ambitions of the Veil.
Léon is the trickster we can never be sure we fully understand. Maybe he's a lover spurned, burning with vengeance. Maybe he feels betrayed by the family he could never be a part of, but served loyally for many years. Did he really kill Samuel? Little do we know.
Profile
Age
53
Nationality
French
Personality

Enigmatic

Deceitful

Profession
Groundskeeper
Romantic envolvements
Story role
Pearl's enemy
Chapters appearances
Ad blocker interference detected!
Wikia is a free-to-use site that makes money from advertising. We have a modified experience for viewers using ad blockers

Wikia is not accessible if you've made further modifications. Remove the custom ad blocker rule(s) and the page will load as expected.