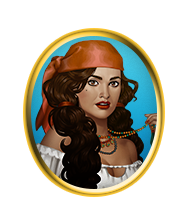 Biography
Edit
A Romani woman who Pearl and Marina meet on their adventures in Egypt. Leya leads them all the way from the Azores to the depths of the Amazon. She's a real wild card and loves to push Marina to her limits. Despite her complexities, she is also wise and compassionate, and has a lot in common with our leading ladies.
Age
31
Nationality
Romani
Personality

Daring

Playful

Insightful

Profession
Unkown
Romantic envolvements

Unknown

Story role
Pearl's friend & Foe and Léon's Sister
Chapters appearances
Edit
Ad blocker interference detected!
Wikia is a free-to-use site that makes money from advertising. We have a modified experience for viewers using ad blockers

Wikia is not accessible if you've made further modifications. Remove the custom ad blocker rule(s) and the page will load as expected.