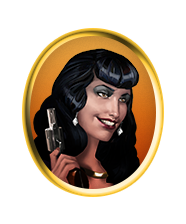 Biography
Marina is a beautiful and deadly Russian KGB Agent, with the accent to match. She's got the wry sense of humor of a killer and we never know exactly whose side she's on. She has had prior dealings with Samuel and Léon… the extent to which we never quite know. Marina is tall and imposing, with an air of confidence. Whenever she appears, things are most likely to become both dangerous and entertaining at the same time.
Profile
Age
40
Nationality
Russian
Personality

Mysterious

Imposing

Confident

Profession
KGB Agent
Romantic envolvements
Story role
Pearl's enemy and ally
Chapters appearances
Ad blocker interference detected!
Wikia is a free-to-use site that makes money from advertising. We have a modified experience for viewers using ad blockers

Wikia is not accessible if you've made further modifications. Remove the custom ad blocker rule(s) and the page will load as expected.