Paris is a quite visited city by Pearl. The city is host of Luc Alban and Klaus Weber's Interpol office. Paris, more precisely Sorbonne University, was an important stop for Pearl's entrance at The Golden Mean.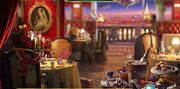 Ad blocker interference detected!
Wikia is a free-to-use site that makes money from advertising. We have a modified experience for viewers using ad blockers

Wikia is not accessible if you've made further modifications. Remove the custom ad blocker rule(s) and the page will load as expected.