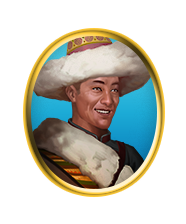 Biography
Edit
Sanat Kumara greets Pearl and co. at the gates of Shambala. He is protective of the sacred civilization to which he belongs and strives to preserve peace and serenity for his people.
Age
32
Nationality
Shambalan
Personality

Spiritual

Generous

Humble

Profession
Romantic envolvements
Unknown
Story role
Representative of Shambala
Chapters appearance
Edit
Chapter 17
Chapter 18
Ad blocker interference detected!
Wikia is a free-to-use site that makes money from advertising. We have a modified experience for viewers using ad blockers

Wikia is not accessible if you've made further modifications. Remove the custom ad blocker rule(s) and the page will load as expected.