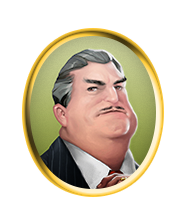 Biography
Silas James is the businesslike lawyer to the Wallace family. He fancies himself a major player in the Chaos Veil, a criminal organization that rivals the Golden Mean. Silas is a large and intimidating man who always seems to have an ace up his sleeve.
Profile
Age
49
Nationality
American
Personality

Slick

Ingratiating

Ambitious

Profession
Lawyer
Romantic envolvements
Unknown
Story role
Wallaces' lawyer
Chapters appearances
Ad blocker interference detected!
Wikia is a free-to-use site that makes money from advertising. We have a modified experience for viewers using ad blockers

Wikia is not accessible if you've made further modifications. Remove the custom ad blocker rule(s) and the page will load as expected.