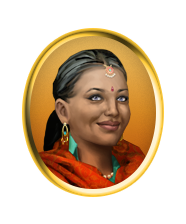 Biography
Edit
Tara Sai is a scientist and the head and heart of the Golden Mean. She was good friends with Dorothy Wallace when Dorothy was alive and is a close colleague of Edwin's. Tara has dedicated her life to the organization that carries out scientific work in the interest of humanity - and which often ends up saving the world. She becomes a mentor to Pearl throughout her journey.
Age
45
Nationality
Indian
Personality

Strong

Compassionate

Worldly

Profession
Head of the Golden Mean
Romantic envolvements

Edwin's shoulder monkey

Story role
Trusted Wallace family friend
Chapters appearances
Edit
Ad blocker interference detected!
Wikia is a free-to-use site that makes money from advertising. We have a modified experience for viewers using ad blockers

Wikia is not accessible if you've made further modifications. Remove the custom ad blocker rule(s) and the page will load as expected.